---

New on the PPA site:
(Click on the links for more information)
Current Board and Contact Information
President: Harry Loring, president@pantherpondassociation.org
Vice President: Jim Brennan, vp@pantherpondassociation.org
Treasurer: Linda Howard, treasurer@pantherpondassociation.org
Secretary: Jean Miller, secretary@pantherpondassociation.org
Environmental Officer: Pete Leitner, environmental.officer@pantherpondassocation.org
2021 Membership Appeal - The current membership of the PPA has dropped in the last year, largely due to COVID restrictions and lack of the annual meeting. The Board will be sending out a mailing in Early June 2021 and outlining this year's meeting. This years meeting will be held at King's Grant at 10:00 am on August 21, 2021.
As an added incentive to being a member of this organization, the PPA will be having a drawing of all active members paid before July 31, 2021.
Active membership donation remains at $20, however for donations of $25 and above you will receive 2 chances to win one of these fine Portraits of the Pond. We will follow up the letter with an E-mail version (for those who have E-mail addresses listed with us) in July.
Special Thanks goes out to Neil Jensen for putting this beautiful map together, and to our Environmental Officer Pete Leitner for the fine Cherry Framing.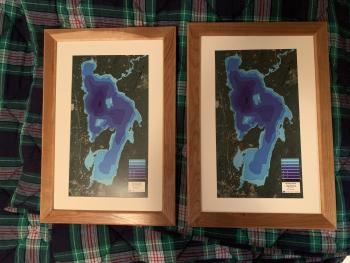 PPA is now on Facebook. Click on the big "F" to go to PPA's Facebook page. Join the discussion. See your neighbors' beautiful pictures of our beloved lake.