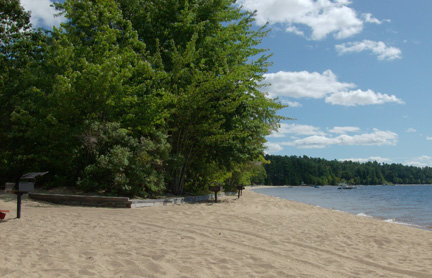 Location: Just off Route 302, across from the Raymond Shopping Center, and behind Jordan Bay Veterinary Hospital. A four mile drive from the Windham shopping area and a seven mile drive from Naples.
Tassel Top Beach is situated on 35 acres on the east shore of Sebago Lake. A stand of mature pines and hardwoods grace the entrance to the park and the park road leads you to a graveled parking lot. A short walk brings you to 900 feet of sandy beach, one of the best beach areas on Sebago Lake. The beach has a secured swimming area marked by buoys; however there is no lifeguard supervision. The beach area has many picnic tables, outdoor grills and changing rooms are also available. Tassel Top offers a fully stocked Snack Shack with ice cream, hot foods, charcoal, candy, drinks, snacks, clothing, sundries, beach toys and more.
Another enjoyable feature of Tassel Top is a walking trail, covering about 0.90 of a mile, that meanders through acres of Maine woods. The clearly marked trail has points of interest marked by signage and benches for quiet meditation or rest. The trail is maintained by park staff and is handicapped and stroller accessible. This path if for FOOT TRAFFIC ONLY. No bikes, ATV's...etc.
There is no boat launch at the park and boats of any type are not allowed on the beach.
Dogs and other pets are not allowed in the park or on the beach at any time.
2021 Season Fees, Schedule, Park/Beach Hours and Open Dates:
Resident Daily Rates Non-Resident Daily Rates

Children (age 2-11): $2.00 Children (age 2-11): $3.00
Adults (age 12-61): $5.00 Adults (age 12-61): $6.00
Senior citizen (62+): $2.00 Senior citizen (62+): $3.00
Resident Season Pass Rate: $70
Non-Resident Season Pass Rate: $95
Admittance:
For hours of operation and weather closures. Please "Like" www.facebook.com/TasselTopPark.
Tassel Top Park will be operating at a limited capacity of 56 cars. Please be advised that if you are purchasing a season pass that there will be limited space during the season.
Season pass holders will need to show their Driver's License ID to the Gate Attendant. This will match with your membership and serve as your gate pass.
NEW! Season pass holders will be allowed up to 7 in their vehicle before being charged the Daily Rate per person.
Patrons will need to wear a mask when exiting the car and entering the beach. The path to the beach is not big enough to maintain correct social distancing. Once they arrive at there plot they can take off masks.
According to CDC guidelines people will need to wear masks until they reach a spot on the beach.
Tassel Top Park will be Carry-In Carry-Out with trash. Except for Snack Shack purchases.
The Snack Shack will have visible lines 6-feet apart. Customers will stand on those taped spots as the line dwindles and they can order from the service window. They will exit on the other side.
Staff Safety Procedures:
Tassel Top Park will make sure the staff is trained on the CDC COVID General Guidance Checklist. Also, have all of the PPE and safety measures in place for working.
Facemasks and gloves will be mandatory at the Gate House and Snack Shack when interacting with customers.
NOTE: Park may open late and/or close early due to inclement weather or lack of business.
For more information call: 207-655-4572.